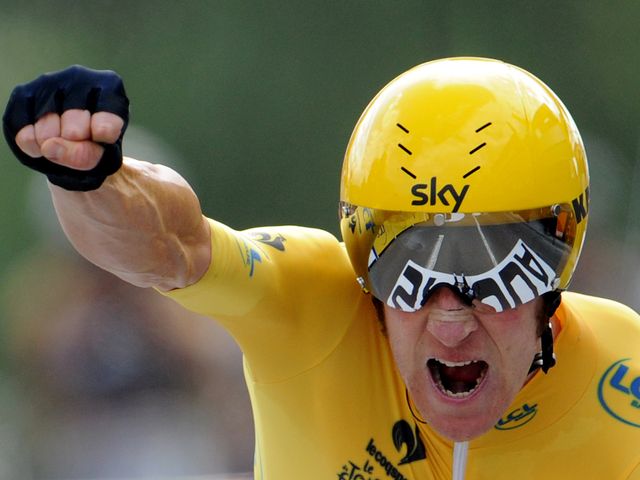 bradley wiggins has won the tour de france - wow!!!!!!!!!!!!!!!!!!
in our house we have followed the tour for years. the itv4 highlights at 7pm are family viewing for three weeks. it's one of the few times of the year that we take food and eat it in front of the tv rather than round the table. and now joel and harry are elsewehere, texts and tweets still make it somethng of a shared experience. i think it is without doubt the single most difficult sporting event on the planet. there are layers and complexities to it that i won't attempt to explain - sprints, time trials, mountain stages, teams, several jersey competitions - the easiest way to get into it is to decide to follow along one year. but to win it and the yellow jersey is simple to understand - you have to complete the whole tour the fastest overall.
when we started watching there had been the occasional british cyclist - chris boardman, david millar for example - who had won a stage, but we honestly could not imagine ever producing a tour winner. france, spain, italy, germany, australia, usa... seemed to know what it was about and have great traditions of cycling - but not britain! this is why bradley wiggins win is so extraordinary. there has been such a turnaround in british cycling in both men and women's racing. it's not been an overnight thing - it never could be. but bradley has come through time trialing, track cycling, and some hard lessons over the last 3 years of the tour. he has won world championships, gold medals and before the tour was already an extraordinary cyclist. but the tour is something else and it's been a huge effort on so many peoples part along with bradley who has dedicated himself to this goal. of course we also have other amazing men and women cyclists at the moment - mark cavendish, victoria pendleton, chris hoy to name a few and chris froome who has been a total revelation in this year's tour de france coming second - yes first and second (oh and cav winning three stages including the champs d'elysee for the fourth time and becoming the world's best sprinter ever!!!!).
it's a team event - and team sky have been incredible. there is a lot of moaning about them on twitter but i think it's only because they have become so strong. i personally think they have been fantastic. there have also been a lot of people who can't understand why chris froome hasn't challenged bradley wiggins (even more tiresome moaning on twitter). i have loved seeing chris froome looking so good and i really hope he will come back in another team and challenge for the tour himself next year. but he'll only be able to do that if he is the team leader and people work for him. he could have put some time into bradley in the mountains no doubt - a few seconds here and there. but i can't see any way with the team and bradley's incredible form and time trialing that he would have beaten brad this year. bradley wiggins is simply the greatest cyclist that britain has ever known and the greatest cyclist in the world right now. in the time trial on saturday he was beautiful, supreme, majestic, a world apart from his rivals. those that follow the tour will know that a gap of over 3 minutes to your next rival overall is huge. it's been won by a few seconds many times. bradley has carried the yellow jersey for about 15 days i think and he rides clean :)
bradley wiggins will surely be sports personality of the year as one of the greatest sportsmen britain has ever had and sideburns will definitely be back in fashion!!!