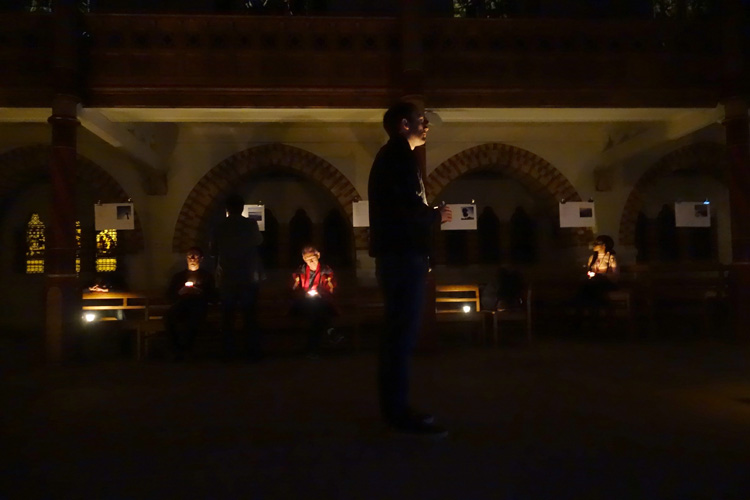 i have been meaning to add this since the last grace but don't know where the time has gone...
anyway it was a lovely grace advent service and i know next year is a way off but you could easily repeat this idea so tuck it away somewhere. grace was inspired by ian adams reflections for advent seeking light - which you can get from proost. we printed them off a3 size and suspended them from the balcony in the church space with nylon thread. we used about 20 in total i think. it was handy that having done an exhibition there before we still had the stuff from that. to straighten them out we just clipped a strip of card behind each sheet.
then apart from a central candle and a few candles highlighting the step at the far end the church space was completely dark - we had moved benches from the main space. a set of tunes played quietly in the dark around the theme of seeking light (see below). then the bulk of grace was 45 minutes where people were given a candle to take into the space and read the reflections by candlelight. they could sit quietly in the space or read through them all as they wished. we simply topped and tailed that with an opening and ending prayer/liturgy. these have been added to the grace archive here . it was very simple. the candlelight really made it a magical evening...
the playlist i think was:
lovebleeps - laura b
incense - andy thornton (from labyrinth)
o come o come emmanuel - sufjan stevens
blackout - heights of abraham
shine - dave gahan and soulsavers
a change is gonna come - the fugees live
anthem - leonard cohen
young death - burial
open the light - boards of canada
gathering light - detriot escalator co
searchlight - jon hopkins
the light - album leaf
a light to guide you - clem leek
near light - olafur arnolds
into forever - eat lights become lights
to believe - cinematic orchestra
jesus alone - nick cave
since i - jono mccleery
lighthouse - patrick watson
i have added this as a worship trick - no 68 in series 4