i appreciate that this blog is currently something of a slow burn, such is my busy life! but a massive thank you to those of you who still patiently hop onto the flow whether via a feed, twitter, facebook or the occasional digital drop in. i hope as you look back on 2014 you have some consoling thoughts and find hope for the year ahead even if it is against the odds.
a while back i posted a tale of two bookshops in which purchased four books at the ICA bookshop. i have enthused about two of them so far - feral (my book of the year i think and george monbiot is the person i would most like to be put in charge of running the country), and exploring everything.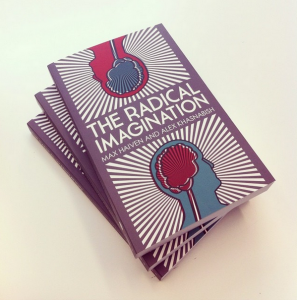 well the third of the four is radical imagination. i bought this because i can't resist anything about imagination - one of the most underrated and undervalued aspects of what it is to be human. but i didn't read the small print - it turns out it's a book about social research amongst activist movements. but i ended up loving it and learning a load. there is a web site related to it that aims to study, broadcast and celebrate the intelligence, passion and creativity of social movements. of course the church is a social movement (though of course it is curiously part of the establishment in places too!). this book has lots to say to those of us interested in the transformation of society especially seeking to imagine a different kind of society and world that does not have to be the way it is now, and as part of that those of us seeking to effect change in and through following in the way of jesus christ (one heck of an activist!).
the single idea that has stuck with me the most and anyone who knows me well will have been subjected to it over a meal conversation or a work discussion is prefigurative research. what the authors mean by this is to design the present on the basis of an imagined future that is not already here. in their case they are based in universities and don't like the way the academic world is configured so they imagine how the university might be and design research on the basis of that - i.e. it prefigures it rather than settling for the current status quo. brilliant eh? 
so on the first day of the year what kind of world, society, economy, neighbourhood, community, business, or church do you imagine might be possible? and how can you live in the present in a way that flows from that radical imagination? i feel challenged about the training of pioneers i lead at cms - have we done enough imaginative work of what is possible out of which to design our training? we do love imagination but i am stirred up to do some more. i am sick the culture of greed in the wider powers that be and the systematic grinding down of the poor and it seems to me that here more than anywhere we need this radical kind of approach.
i also like the positive and yet honest way that haven and khasnabish talk about social movements. it's interesting to overlay this with whatever networks or movements yoiu have been or are part of such as transition towns, emerging church, pioineering mission or whatever. here's a few notes and quotes i jotted down for myself when i read it...
Take social movements seriously as fecund ecologies ripe with possibility

Movements can be alternative spaces of social reproduction, places where individuals and communities can re-create themselves and find support for doing so.

Social movements are driven by and co-create the radical imagination: shared landscapes of possibility and contestation that confront and contradict the reigning imaginaries of capital and power.... It is not something individuals have but is something networks, groups, movements do. It emerges from and guides collective doing...

Hope is important to balance struggle - fun, joy, celebration, acceptance, humour...
it reminded me just how important communities are in which conversation is happening about the world and change. three things i do that this has helped me continue to value are meet with friends over a meal most weeks one evening to linger at the table, talk, share life, dream and pray; a couple of times a year through the team i work with host a 24 hour dreaming space in which we go away and take on a theme or idea and explore it; and connect/network with others who share similar vision and passion around transformation. this is all part i guess of building infrastructures of dissent as they are described on the web site (i love that phrase - reminds me of the great mission thinker john taylor's notion of cells of dissent).
the book is also a reminder of how valuable research is. they see research as part of how movements are carried forward and propose the idea of a solidarity research strategy that opens up a commions for the imagination through community and participation. so their research involves facilitating focus groups, hosting events, and even a radical imagination festival. one of the issues for activists and i suspect a lot of us in many walks of life is that you get bogged down in the day to day task. one thing research does is pull people together to reflect and talk about what is going on with others. it opens time and spaces in a cycle of imagination, strategy and tactics. the kinds of questions researchers facilitate conversation about are 
what events or ideas brought you to pioneering work and (how) have your thoughts changed through your involvement?
what is the role of the imagination in your movement and your own pioneering?
what would it mean to win? What's your vision of a better society? Do these visions matter to you and your movement?
what are the barriers to the radical imagination that you face?
i have changed politics to pioneering in the questions above to see how it crosses over into mission. i should have said that the project is grounded in the particular - in hamilton canada - so it's not just an abstract set of ideas. it really is involved in a movement for change.
so go prefigure! hopeful new year :)